Creative Lunch in Bento Box - Soy Wrap Recipe
---
Here are some recipes to make healthy lunch in your bento box using Soy Wrappers by Yamamotoyama.
Back Page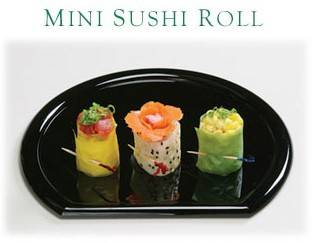 Ingredients:
Soy Wrappers (Click here to buy)
Sushi Rice
Sashimi-grade Fresh Tuna
Sliced Smoked Salmon
Canned Corn
Green Onion
Mayonnaise
Chili Oil
Preparation:
1. Prepare Sushi Rice.
2. Cut Soy Wrappers in 6 strips, approx. 1 1/4 inches by 7 inches
3. Prepare the toppings: (can be anything your choice)
Spicy Tuna: Cut tuna into 1/4 inch cubes and mix with chili oil, if you like it more spicy, add red chili powder or substitute the chili oil for Sriracha Hot Sauce. If you don't like it spicy you can subsitute with sesame oil. You can also add Masago (smelt roe) to the mixture as well.
Mayonnaise Corn: Mix canned corn with mayonnaise


Make Halloween Bento in 5 minutes
---
Halloween is the perfect time to be creative with bento art using our 2-tier black cat lunch box and Halloween shaped tools. Here are some suggestions to get you started. These are super easy, taking about 5 minutes to complete.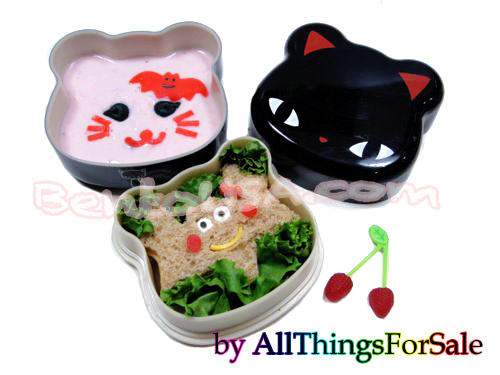 Bat Sandwich: Ingredients
- Bread (we use Honey Wheat Bread)
- Cheese (we use American Cheese)
- Optional: Mayonnaise, Mustard
- Lettuce
- Candy Eyeballs
Cat Yogurt: Ingredients
- Yogurt (we use Strawberry Light Yogurt)
- Fruit Leather (we use strawberry flavor for little treat)
- Fruity Snacks (mixed berry, zero fat, 100% vitamin C)
Read Step-by-Step Instruction here.